Kijk Jarhead 3: The Siege online

Kun je de Actie, Drama & Oorlog film Jarhead 3: The Siege, geregisseerd door William Kaufman & met Charlie Weber, Erik Valdez, Scott Adkins & Tom Ainsley streamen op Netflix, Videoland, Prime Video, Pathe Thuis of andere Nederlandse streamingdiensten?

Film streamgids: Jarhead 3: The Siege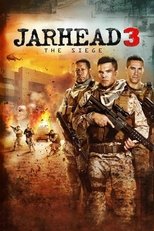 Korporaal Evan Albright (Charlie Weber) wordt uitgezonden naar een rustige ambassade van de Verenigde Staten in het Midden-Oosten. Hij denkt dat er niks zal gebeuren. Het team van Albright wordt echter overrompeld door een aanval van een groep militanten, die een informant van de ambassade willen ombrengen. De militanten zijn in overtal en hebben meer wapens. Albrights rustige uitzending wordt een grote oorlog. De nationale veiligheid staat op het spel en er dreigt een internationale crisis .
Alle beschikbare streamingdiensten in Nederland



---
De releasedatum is 20-1-2016
Productie informatie
| | |
| --- | --- |
| Regisseur | William Kaufman |
| Cast | Charlie Weber, Erik Valdez, Scott Adkins & Tom Ainsley |
| Genre | Actie, Drama & Oorlog |
| Releasedatum | 2016-01-20 |
| Onderwerpen | Jarheads, Marine Korpsen, Oorlog & Us Marine |
| Schrijver | Chad Law & Michael D. Weiss |
| Lengte | 95 min |
| Filmpagina | Jarhead 3: The Siege Homepagina |
Andere films vergelijkbaar met Jarhead 3: The Siege beschikbaar om te streamen in HD
Gerelateerde films
Streamingkosten & NL Ondertiteling
Streaming Aanbieder
Prijs
Google Play
Huur
Microsoft
Huur
iTunes
Huur
Diensten als Netflix & Videoland komen bijna altijd met Nederlandse ondertiteling (zo zet je de ondertiteling aan!). Al in het bezit deze film maar je hebt geen ondertiteling? Vind Nederlandse ondertiteling voor Jarhead 3: The Siege hier!