Kijk Underworld: Rise of the Lycans online

Kun je de Actie, Avontuur & Fantasie film Underworld: Rise of the Lycans, geregisseerd door Patrick Tatopoulos & met Bill Nighy, Michael Sheen, Rhona Mitra & Shane Brolly streamen op Netflix, Videoland, Prime Video, Pathe Thuis of andere Nederlandse streamingdiensten?

Film streamgids: Underworld: Rise of the Lycans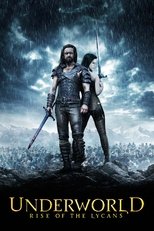 Tijdens de Middeleeuwen zijn de Lycans de slaven van de aristocratische vampieren. Lucian (Michael Sheen), één van de Lycans, zet de weerwolven op om te strijden tegen Viktor (Bill Nighy), de koning der vampieren. In zijn strijd voor hun vrijheid wordt Lucian vergezeld door zijn geheime geliefde Sonja (Rhona Mitra). Haar aanwezigheid zorgt voor de nodige veranderingen in de plannen van Lucian.
Alle beschikbare streamingdiensten in Nederland



---
De releasedatum is 22-1-2009
Productie informatie
| | |
| --- | --- |
| Regisseur | Patrick Tatopoulos |
| Cast | Bill Nighy, Michael Sheen, Rhona Mitra & Shane Brolly |
| Genre | Actie, Avontuur & Fantasie |
| Releasedatum | 2009-01-22 |
| Onderwerpen | Filicide Fictie, Gevangenis, Kasteel, Onderwereld, Oorlog, Slavernij, Strijd, Vampire, Vampires, Weerwolf & Weerwolven |
| Filmlocatie | New Zealand & North Carolina |
| Schrijver | Danny McBride (characters), Danny McBride (screenplay), Danny McBride (story), Dirk Blackman (screenplay), Howard McCain (screenplay), Kevin Grevioux (characters), Len Wiseman (characters), Len Wiseman (story) & Robert Orr (story) |
| Kosten | $35,000,000 |
| Opbrengst | $91,353,501 |
| Lengte | 92 min |
Andere films vergelijkbaar met Underworld: Rise of the Lycans beschikbaar om te streamen in HD
Gerelateerde films
Streamingkosten & NL Ondertiteling
Streaming Aanbieder
Prijs
Pathé Thuis
Huur
Microsoft
Huur
iTunes
Huur
Diensten als Netflix & Videoland komen bijna altijd met Nederlandse ondertiteling (zo zet je de ondertiteling aan!). Al in het bezit deze film maar je hebt geen ondertiteling? Vind Nederlandse ondertiteling voor Underworld: Rise of the Lycans hier!