Kijk Thor: The Dark World online

Kun je de Actie, Animatie, Avontuur, Fantasie & Komedie film Thor: The Dark World, geregisseerd door Alan Taylor & Doug Murphy & met Anthony Hopkins, Chris Hemsworth, Natalie Portman & Tom Hiddleston streamen op Netflix, Videoland, Prime Video, Pathe Thuis of andere Nederlandse streamingdiensten?

Film streamgids: Thor: The Dark World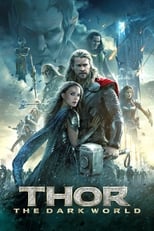 Na de gebeurtenissen in The Avengers strijdt Thor om de orde te herstellen in de kosmos. Maar een oud ras van Duistere Elven onder leiding van de wraaklustige Malekith wil het universum in duisternis onderdompelen. Wanneer zelfs Odin en Asgard niet opgewassen zijn tegen deze vijand, zal Thor zijn meest gevaarlijke en persoonlijke strijd moeten aangaan, die hem opnieuw zal herenigen met Jane Foster en hem zal dwingen tot de ultieme opoffering voor de redding van onze wereld.
Alle beschikbare streamingdiensten in Nederland






---
De releasedatum is 29-10-2013
Productie informatie
| | |
| --- | --- |
| Regisseur | Alan Taylor & Doug Murphy |
| Cast | Anthony Hopkins, Chris Hemsworth, Natalie Portman & Tom Hiddleston |
| Genre | Actie, Animatie, Avontuur, Fantasie & Komedie |
| Releasedatum | 2013-10-29 |
| Onderwerpen | Aftercreditsstinger, Duringcreditsstinger, Extraterrestrial Life, Fictie Regicide, Gebaseerd Op Comic, Motion Capture, Mythologische Plaats, Norse Mythologie, Royalty, Superheld, Vijandige Overname, Wonder Filmisch Universum & Wormholes Fictie |
| Tijd | 2013 |
| Filmlocatie | London |
| Schrijver | Christopher L. Yost (screenplay by), Christopher Markus (screenplay by), Cliff Ruby (screenplay), Dan Wicksman (screenplay), Dan Wicksman (story), Don Payne (story by), Elana Lesser (screenplay), Jack Kirby (based on the Marvel comics by), Joe Stillman (screenplay), Larry Lieber (based on the Marvel Comics by), Nuria Wicksman (screenplay), Nuria Wicksman (story), Robert Rodat (story by), Stan Lee (based on the Marvel comics by), Stephen McFeely (screenplay by) & Walter Simonson (character created by: Malekith) |
| Kosten | $170,000,000 |
| Opbrengst | $644,571,402 |
| Lengte | 112 min |
| Filmpagina | Thor: The Dark World Homepagina |
Andere films vergelijkbaar met Thor: The Dark World beschikbaar om te streamen in HD
Gerelateerde films
Streamingkosten & NL Ondertiteling
Streaming Aanbieder
Prijs
Pathé Thuis
Huur
Rakuten TV
Huur
Google Play
Huur
Microsoft
Huur
iTunes
Huur
Diensten als Netflix & Videoland komen bijna altijd met Nederlandse ondertiteling (zo zet je de ondertiteling aan!). Al in het bezit deze film maar je hebt geen ondertiteling? Vind Nederlandse ondertiteling voor Thor: The Dark World hier!