Kijk The Song of Names online

Kun je de Drama film The Song of Names, geregisseerd door François Girard & met Catherine McCormack, Clive Owen, Eddie Izzard & Tim Roth streamen op Netflix, Videoland, Prime Video, Pathe Thuis of andere Nederlandse streamingdiensten?

Film streamgids: The Song of Names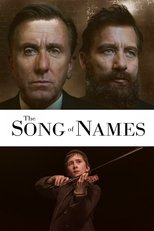 Aan het begin van de Tweede Wereldoorlog is de negenjarige violist Dovidl, een Poolse Jood, naar London gevlucht. Op zijn 21ste staat hij op het punt zijn eerste concert te geven als hij zonder enig spoor van de aardbodem verdwijnt. Zijn broer Martin, die hem altijd al op handen heeft gedragen, krijgt decennia later van een jonge violist een muziekstuk te horen dat enkel en alleen door Dovidl aangeleerd had kunnen zijn. Martin begint een onderzoek naar zijn verloren broer wat tot verrassende...
Alle beschikbare streamingdiensten in Nederland





---
De releasedatum is 25-12-2019
Productie informatie
| | |
| --- | --- |
| Regisseur | François Girard |
| Cast | Catherine McCormack, Clive Owen, Eddie Izzard & Tim Roth |
| Genre | Drama |
| Releasedatum | 2019-12-25 |
| Schrijver | Jeffrey Caine (screenplay) & Norman Lebrecht (based on the novel by) |
| Opbrengst | $1,138,700 |
| Lengte | 113 min |
| Filmpagina | The Song of Names Homepagina |
Andere films vergelijkbaar met The Song of Names beschikbaar om te streamen in HD
Gerelateerde films
Streamingkosten & NL Ondertiteling
Streaming Aanbieder
Prijs
Rakuten TV
Huur
Google Play
Huur
Microsoft
Huur
iTunes
Huur
Diensten als Netflix & Videoland komen bijna altijd met Nederlandse ondertiteling (zo zet je de ondertiteling aan!). Al in het bezit deze film maar je hebt geen ondertiteling? Vind Nederlandse ondertiteling voor The Song of Names hier!