Kijk The Smurfs online

Kun je de Animatie, Avontuur & Familie film The Smurfs, geregisseerd door Raja Gosnell & met Hank Azaria, Jayma Mays, Neil Patrick Harris & Sofía Vergara streamen op Netflix, Videoland, Prime Video, Pathe Thuis of andere Nederlandse streamingdiensten?

Film streamgids: The Smurfs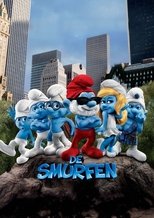 Wanneer de kwade tovenaar Gargamel hun dorp aanvalt, ontsnappen de Smurfen via een magische doorgang, die "eens per blauwe maan" geopend is. Ze komen terecht in een vreemde, nieuwe wereld, die in niets lijkt op wat ze ooit hebben gezien: New York. Ze zitten vast in Manhattan en om weer thuis te komen moeten Grote Smurf en de anderen een echte blauwe maan zien te vinden - voordat Gargamel ze vindt.
Alle beschikbare streamingdiensten in Nederland







---
De releasedatum is 29-7-2011
Productie informatie
| | |
| --- | --- |
| Regisseur | Raja Gosnell |
| Cast | Hank Azaria, Jayma Mays, Neil Patrick Harris & Sofía Vergara |
| Genre | Animatie, Avontuur & Familie |
| Releasedatum | 2011-07-29 |
| Onderwerpen | Animatie, Blauw, Gebaseerd Op Komisch, Goed Versus Kwaad, Maan, Magie, Smurf & Vortex |
| Schrijver | David N. Weiss (screenplay by), David N. Weiss (story by), David Ronn (screenplay by), J. David Stem (screenplay by), J. David Stem (story by), Jay Scherick (screenplay by) & Peyo (based on characters created by) |
| Kosten | $110,000,000 |
| Opbrengst | $563,749,323 |
| Lengte | 103 min |
| Filmpagina | The Smurfs Homepagina |
Andere films vergelijkbaar met The Smurfs beschikbaar om te streamen in HD
Gerelateerde films
Streamingkosten & NL Ondertiteling
Diensten als Netflix & Videoland komen bijna altijd met Nederlandse ondertiteling (zo zet je de ondertiteling aan!). Al in het bezit deze film maar je hebt geen ondertiteling? Vind Nederlandse ondertiteling voor The Smurfs hier!