Kijk The Poseidon Adventure online

Kun je de Actie, Avontuur & Drama film The Poseidon Adventure, geregisseerd door Ronald Neame & met Carol Lynley, Ernest Borgnine, Gene Hackman & Red Buttons streamen op Netflix, Videoland, Prime Video, Pathe Thuis of andere Nederlandse streamingdiensten?

Film streamgids: The Poseidon Adventure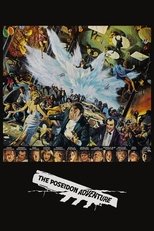 De Poseidon is een luxueus schip met reusachtige afmetingen, dat haar laatste reis maakt van New York naar een Grieks scheepskerkhof. De eigenaren willen zoveel mogelijk geld besparen en zetten de kapitein onder druk om zo snel mogelijk op de plaats van bestemming aan te komen, iets wat de motoren van het oude schip niet meer aankunnen. Tijdens de viering van het nieuwe jaar gebeurt het onvermijdelijke. Een enorme vloedgolf laat het schip kapseizen en er vallen talloze doden en gewonden. Tien...
Alle beschikbare streamingdiensten in Nederland

---
De releasedatum is 1-12-1972
Productie informatie
| | |
| --- | --- |
| Regisseur | Ronald Neame |
| Cast | Carol Lynley, Ernest Borgnine, Gene Hackman & Red Buttons |
| Genre | Actie, Avontuur & Drama |
| Releasedatum | 1972-12-01 |
| Onderwerpen | Broer Of Zus Relatie, Dood, Golf, Leven En Dood, Oudejaarsavond, Overlevenden Van Ongevallen Of Incidenten Op Zee, Prostituee, Schipbreuk, Vrouw Man Relatie & Zee |
| Schrijver | Paul Gallico (novel), Stirling Silliphant (screenplay by) & Wendell Mayes (screenplay by) |
| Cinematograaf | Harold E. Stine |
| Muziek | The Song from The Poseidon Adventure: |
| Kosten | $5,000,000 |
| Opbrengst | $84,563,118 |
| Lengte | 117 min |
Andere films vergelijkbaar met The Poseidon Adventure beschikbaar om te streamen in HD
Gerelateerde films
Streamingkosten & NL Ondertiteling
Streaming Aanbieder
Prijs
Google Play
Huur
Diensten als Netflix & Videoland komen bijna altijd met Nederlandse ondertiteling (zo zet je de ondertiteling aan!). Al in het bezit deze film maar je hebt geen ondertiteling? Vind Nederlandse ondertiteling voor The Poseidon Adventure hier!