Kijk The Judgement online

Kun je de Drama & Thriller film The Judgement, geregisseerd door Sander Burger & met Fedja van Huêt, Lies Visschedijk, Mark Kraan & Yorick van Wageningen streamen op Netflix, Videoland, Prime Video, Pathe Thuis of andere Nederlandse streamingdiensten?

Film streamgids: The Judgement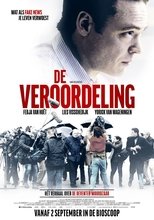 Televisiejournalist Bas Haan (Fedja van Huêt) creëert zijn eigen monster wanneer hij in zijn onderzoek naar de Deventer moordzaak steeds meer in het kamp wordt gezogen van degenen die 'de klusjesman' van moord beschuldigen. Een media-hetze is het gevolg waardoor het leven van 'de klusjesman' en zijn vrouw verandert in een ware nachtmerrie. Onthutst door deze 'trial by media' besluit Bas de complotten te bestrijden met de feiten, maar tot zijn frustratie blijkt de beeldvorming sterker dan...
Alle beschikbare streamingdiensten in Nederland


---
De releasedatum is 2-9-2021
Productie informatie
| | |
| --- | --- |
| Regisseur | Sander Burger |
| Cast | Fedja van Huêt, Lies Visschedijk, Mark Kraan & Yorick van Wageningen |
| Genre | Drama & Thriller |
| Releasedatum | 2021-09-02 |
| Schrijver | Bas Haan, Bert Bouma & Sander Burger |
| Lengte | 130 min |
Andere films vergelijkbaar met The Judgement beschikbaar om te streamen in HD
Gerelateerde films
Streamingkosten & NL Ondertiteling
Streaming Aanbieder
Prijs
Pathé Thuis
Huur
iTunes
Huur
Diensten als Netflix & Videoland komen bijna altijd met Nederlandse ondertiteling (zo zet je de ondertiteling aan!). Al in het bezit deze film maar je hebt geen ondertiteling? Vind Nederlandse ondertiteling voor The Judgement hier!