Kijk Omen III: The Final Conflict online

Kun je de Horror, Mysterie & Thriller film Omen III: The Final Conflict, geregisseerd door Graham Baker & met Don Gordon, Lisa Harrow, Rossano Brazzi & Sam Neill streamen op Netflix, Videoland, Prime Video, Pathe Thuis of andere Nederlandse streamingdiensten?

Film streamgids: Omen III: The Final Conflict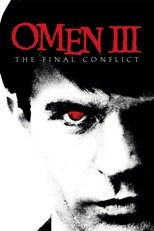 Armageddon is gekomen en De Duivel is onder ons. Zijn naam is Damien Thorn en de macht van het kwaad is niet langer in handen van een kind. Damien Thorn (Sam Neill) is nu 32, een kil berekenend wezen, met een kwaad credo, wiens ambitie het is de wereld te beheersen en wiens enige loyaliteit hemzelf betreft en de vader die hij dient. Om zijn doel te bereiken zal hij iedereen die op zijn weg komt doden, vriend, vijand, discipel of geliefde. Alleen een toegewijde priester (Rossano Brazzi) wiens...
Alle beschikbare streamingdiensten in Nederland



---
De releasedatum is 20-3-1981
Productie informatie
| | |
| --- | --- |
| Regisseur | Graham Baker |
| Cast | Don Gordon, Lisa Harrow, Rossano Brazzi & Sam Neill |
| Genre | Horror, Mysterie & Thriller |
| Releasedatum | 1981-03-20 |
| Schrijver | Andrew Birkin & David Seltzer |
| Opbrengst | $20,471,382 |
| Lengte | 108 min |
Andere films vergelijkbaar met Omen III: The Final Conflict beschikbaar om te streamen in HD
Gerelateerde films
Streamingkosten & NL Ondertiteling
Streaming Aanbieder
Prijs
Google Play
Huur
Microsoft
Huur
Diensten als Netflix & Videoland komen bijna altijd met Nederlandse ondertiteling (zo zet je de ondertiteling aan!). Al in het bezit deze film maar je hebt geen ondertiteling? Vind Nederlandse ondertiteling voor Omen III: The Final Conflict hier!