Kijk In the Name of the King III online

Kun je de Actie, Avontuur & Drama film In the Name of the King III, geregisseerd door Uwe Boll & met Bashar Rahal, Daria Simeonova, Dominic Purcell & Ralitsa Paskaleva streamen op Netflix, Videoland, Prime Video, Pathe Thuis of andere Nederlandse streamingdiensten?

Film streamgids: In the Name of the King III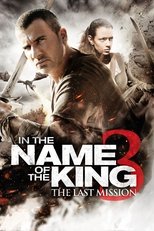 Hazen Kaine, een Amerikaanse huurmoordenaar die in Sofia in Bulgarije woont, krijgt meer op zijn dak dan hij gehoopt had als hij een contract sluit met de maffia. Het is de laatste klus voor dat hij er uit stapt en aan een nieuw leven begint. Het doel: de drie kinderen van de koninklijke miljardair Andon Dupont. Het lijkt een simpele missie, maar een simpele halsketting van een van de kinderen zorgt er voor dat hij in de middeleeuwen terecht komt.
Alle beschikbare streamingdiensten in Nederland


---
De releasedatum is 27-12-2013
Productie informatie
| | |
| --- | --- |
| Regisseur | Uwe Boll |
| Cast | Bashar Rahal, Daria Simeonova, Dominic Purcell & Ralitsa Paskaleva |
| Genre | Actie, Avontuur & Drama |
| Releasedatum | 2013-12-27 |
| Onderwerpen | Gebaseerd Op Videogame |
| Schrijver | Joel Ross (story and screenplay) |
| Kosten | $3,500,000 |
| Lengte | 86 min |
Andere films vergelijkbaar met In the Name of the King III beschikbaar om te streamen in HD
Gerelateerde films
Streamingkosten & NL Ondertiteling
Streaming Aanbieder
Prijs
Pathé Thuis
Huur
iTunes
Huur
Diensten als Netflix & Videoland komen bijna altijd met Nederlandse ondertiteling (zo zet je de ondertiteling aan!). Al in het bezit deze film maar je hebt geen ondertiteling? Vind Nederlandse ondertiteling voor In the Name of the King III hier!