Kijk Holiday in the Wild online

Kun je de Drama, Komedie & Romantiek film Holiday in the Wild, geregisseerd door Ernie Barbarash & met Fezile Mpela, John Owen Lowe, Kristin Davis, Rob Lowe & Thandi Puren streamen op Netflix, Videoland, Prime Video, Pathe Thuis of andere Nederlandse streamingdiensten?

Film streamgids: Holiday in the Wild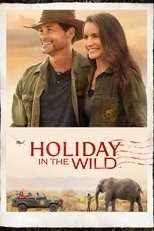 Om niet in een sleur te geraken wanneer hun zoon vertrekt om te studeren, boekt Manhattanite Kate Conrad (Kristin Davis) een 'tweede honeymoon' met haar man. Maar in plaats van haar te bedanken, verbreekt hij plotseling de relatie: verslagen gaat Kate in haar eentje op safari in Afrika. Tijdens een omweg door Zambia, helpt zij haar piloot, Derek Holliston (Rob Lowe), om een klein weesolifantje te redden. Ze vangen hem samen op in het lokale olifantenweeshuis en Kate besluit haar vakantie te...
Alle beschikbare streamingdiensten in Nederland

---
De releasedatum is 1-11-2019
Productie informatie
| | |
| --- | --- |
| Regisseur | Ernie Barbarash |
| Cast | Fezile Mpela, John Owen Lowe, Kristin Davis, Rob Lowe & Thandi Puren |
| Genre | Drama, Komedie & Romantiek |
| Releasedatum | 2019-11-01 |
| Schrijver | Neal H. Dobrofsky & Tippi Dobrofsky |
| Lengte | 85 min |
| Filmpagina | Holiday in the Wild Homepagina |
Andere films vergelijkbaar met Holiday in the Wild beschikbaar om te streamen in HD
Gerelateerde films
Streamingkosten & NL Ondertiteling
Diensten als Netflix & Videoland komen bijna altijd met Nederlandse ondertiteling (zo zet je de ondertiteling aan!). Al in het bezit deze film maar je hebt geen ondertiteling? Vind Nederlandse ondertiteling voor Holiday in the Wild hier!