Kijk The Great War online

Kun je de Historisch & Oorlog film The Great War, geregisseerd door Steven Luke & met Bates Wilder, Billy Zane, Edgar Damatian & Ron Perlman streamen op Netflix, Videoland, Prime Video, Pathe Thuis of andere Nederlandse streamingdiensten?

Film streamgids: The Great War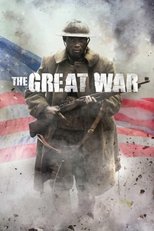 Tijdens de laatste dagen van de Eerste Wereldoorlog zit een regiment van gedurfde Afro-Amerikaanse "Buffelsoldaten" gevangen achter de vijandelijke linies. Nadat een van deze soldaten erin slaagt te ontsnappen, krijgt hij het bevel om zich bij een select team van witte troepen aan te sluiten, onder leiding van een officier met strijdkrachten, om de overlevenden te vinden en te redden. Terwijl ze hun raciale verschillen opzij zetten, bundelen de vastberaden mannen hun krachten om hun verloren...
Alle beschikbare streamingdiensten in Nederland

---
De releasedatum is 7-4-2019
Productie informatie
| | |
| --- | --- |
| Regisseur | Steven Luke |
| Cast | Bates Wilder, Billy Zane, Edgar Damatian & Ron Perlman |
| Genre | Historisch & Oorlog |
| Releasedatum | 2019-04-07 |
| Onderwerpen | Buffalo Soldaat, De Grote Oorlog & Wereldoorlog I |
| Schrijver | Steven Luke |
| Lengte | 108 min |
Andere films vergelijkbaar met The Great War beschikbaar om te streamen in HD
Gerelateerde films
Streamingkosten & NL Ondertiteling
Streaming Aanbieder
Prijs
Google Play
Huur
Diensten als Netflix & Videoland komen bijna altijd met Nederlandse ondertiteling (zo zet je de ondertiteling aan!). Al in het bezit deze film maar je hebt geen ondertiteling? Vind Nederlandse ondertiteling voor The Great War hier!