Kijk City of Lies online

Kun je de Misdaad & Thriller film City of Lies, geregisseerd door Brad Furman & met Dayton Callie, Forest Whitaker, Johnny Depp & Toby Huss streamen op Netflix, Videoland, Prime Video, Pathe Thuis of andere Nederlandse streamingdiensten?

Film streamgids: City of Lies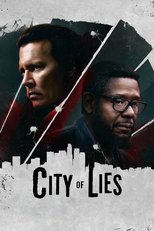 'City of Lies' vertelt het waargebeurde verhaal over een van de meest beruchte misdrijven van de afgelopen jaren, de moord op rapper 'The Notorious B.I.G.'. Detective Russell Poole probeert al jaren de moordzaak op te lossen, maar na twee decennia is de zaak nog altijd open. Een verslaggever, Jack Jackson genaamd die wanhopig zijn reputatie wil redden, is vastbesloten om uit te vinden waarom. Op zoek naar de waarheid werken de twee samen en ontrafelen een groeiend netwerk van institutionele...
Alle beschikbare streamingdiensten in Nederland
Geen beschikbare streaming opties
---
De releasedatum is 10-1-2019
Productie informatie
| | |
| --- | --- |
| Regisseur | Brad Furman |
| Cast | Dayton Callie, Forest Whitaker, Johnny Depp & Toby Huss |
| Genre | Misdaad & Thriller |
| Releasedatum | 2019-01-10 |
| Onderwerpen | De Beruchte Grote, Gebaseerd Op Een Waargebeurd Verhaal, Gebaseerd Op Roman Of Boek, Los Angeles, Rap, Tupac Shakur, Verkrachtingsverhaal & Ware Misdaad |
| Plaats | Television Shows California |
| Schrijver | Christian Contreras (screenplay) & Randall Sullivan (based on the non-fiction book by) |
| Lengte | 112 min |
| Filmpagina | City of Lies Homepagina |
Andere films vergelijkbaar met City of Lies beschikbaar om te streamen in HD
Gerelateerde films
Streamingkosten & NL Ondertiteling
Helaas momenteel nog niet te streamen in Nederland, we houden je op de hoogte


Diensten als Netflix & Videoland komen bijna altijd met Nederlandse ondertiteling (zo zet je de ondertiteling aan!). Al in het bezit deze film maar je hebt geen ondertiteling? Vind Nederlandse ondertiteling voor City of Lies hier!